Crawler
Knight Of The Word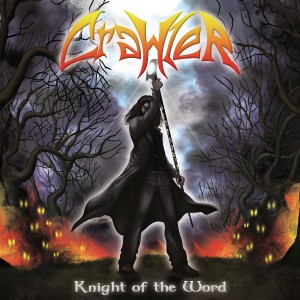 Tracklist
1.

Crawler

2.

Speed

3.

Danger!(On Elm Street)

4.

Burst

5.

Angels In Paradise

6.

Cagliostro

7.

Masters Of The Night

8.

Sick Song

9.

Undeads

10.

The King Will Come

11.

Knight Of The Word
Genere
Heavy Metal
Etichetta
SG RECORDS
Primo full-lenght edito da SG RECORDS per i Crawler: "Knight Of The Word" ,ispirato al ciclo di romanzi de "Il Verbo e il Vuoto" di Terry Brooks, ripercorre le vicende di un cavaliere contemporaneo demotivato nella lotta contro il male, che tra una serie di peripezie riuscirà a ritrovare sé stesso e tornare sulla via del Verbo.
Attivi del 2005 possono vantare date di supporto ad Haggard e Pino Scotto, due Ep ("Undeads" e "Burst") e palchi come Halloween Metal Meeting e il Metal For Angels.
L'album si apre con "Crawler",inno marziale e in pieno stile Iron Maiden; "Speed" non disattende le aspettative diventando uno dei pezzi più accattivanti. "Burst" dell'Ep del 2008 è caratterizzata da un inseguimento di riffing costante per poi passare a una parte melodica ben ammalgamata. A "Cagliostro" viene affidata il "groove", e in "Sick Song" ritroviamo fortissimi elementi Hard Rock, lasciati in disparte negli altri pezzi in favore dell'Heavy Metal. In retroguardia, ma per questo non meno importante è "Knight Of The Word", il pezzo omonimo chiave di volta nella lettura del disco, nel quale vengono fusi elementi di Heavy e di Hard Rock. Per questa traccia che ha avuto la funzione di "singolo" per il lancio dell'album, la band si è avvalsa della collaborazione del pluricelebrato BEAU HILL (Alice Cooper, Winger, Ratt e Europe).
I Crawler si meritano un bel 7,5 poiché la coesione tra testi, esecuzione e incisione è pressoché notevole.


Altri articoli della stessa sezione