FASTWAY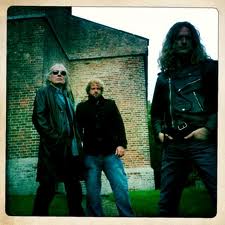 Ladies and Gentlemen Fastway are back! With a brand new line up with Toby Jepson at voice and bass guitare, Matt Eldridge at drums and obviously Eddie Clarke at guitars. Finally after twenty years of waiting Eat Dog Eat Fastway' new album will be release next 14th November by SPV and it was a great pleasure to talk about this with ex-Motorhead guitarist Mr Fast Eddie Clarke.
Hi and welcome on our Italian webzine ALONE MUSIC and thanks for your time. Before we get into your upcoming new album Eat Dog Eat let's talk a little bit about the band's new line up. Did you enjoy work together on this new studio album?
A...Toby Jepson. Vocals and Bass Guitar....Matt Eldridge Drums..
After agreeing to record the album I set up 2 weeks of rehearsal which gave me a chance to work with Matt who I had not met before and work through the new songs and finish off the songs we that need work. I had forgotten what a buzz it is working in the studio and coming out with great recordings. I have to say Matt and Toby also the engineer Ewan Davies were a pleasure to work with. I think this contributed a lot to the finished recordings.
And now, let's talk about your new upcoming album Eat Dog Eat that will be release the 14 th november 2011 by SPV. This is Fastway first studio album since 1990, how this album born and what are your expectations about it?
A..After doing some shows in 2007 with Toby we decided to write songs for an album in 2008.Things being what they are it has taken to now to get the record recorded and released. I am very proud of this album and I guess if people agree with me that it is a great album then I will be happy.If we can tour next year on the back of this record that would be great.
Sounds and melodies, reminds me true old school hard rock. How did you work on songwriting?
A..Toby and I got together in my studio at home and we just hit it off straight away I would come up with a riff and Toby was right on it with a melody.These were some of the easiest songs I have written in a long time. Toby is probably the best vocalist I have worked with. We wanted to stick to what we did best so we just let it come out and we captured it. It was the same in the studio we set up as a band and recorded the backing tracks live just as we did in the old days.
"Eat Dog Eat ", why do you decide to choose this title for the album?
A..It's a play on words I am told! We had about 10 ideas for album titles but this one stuck out from all the rest. It was kind of telling us this the one to use.
Let's talk about songs in the tracklist. Are linked by a common thread or each has its own self-conception?
A...The songs were all written with there own identity. We were aware of the types of groove we wanted but apart from that we just jammed on ideas and built them up from there. Songs like" Deliver Me" and "Fade Out" were almost complete at the demo stage some others we finished at rehearsals for the recording.This gave a fresh feel to some of the tracks and kept us interested it worked really well.
Is there some "backstage" fun stuff during the registration in studio that you would like to tell us ?
A..The sessions were pretty intense and were so enjoyable that nothing really stands out.It was one of the best sessions for me as the result was so satisfying..We were all surprised at how good it was sounding and that was the thing that sticks in my mind..
You have been in the business since long time, you have seen the scene develop during decades, bands and trends come and go. How do you look at the scene nowadays compared to the past when you started making hard rock and heavy metal?
A..I think nowadays technology has played a big part in changing the way music is played and the attitude of musicians.In the old days there seemed to be a greater need to be good on your instrument now you just buy a box that does it for you. You must remember when in Motorhead digital tuners had not been invented. Lemmy and I tuned up using a tuning fork or a piano when in the studio. Back then you had to work very hard just to get a good sound it really was difficult now you get a box that says GREAT SOUND on it. I think it means musicians today have not had to struggle to achieve there sound or save up for a good instrument I think it must change something about the music.

Thinking of all live gig you did during your career, is there one in particular that reminds fine stuff or you got impressed in your mind?
A..Its been a long time but the latest memorable gig was getting up with Motorhead at Sweden Rock in 2007.They had the bomber and everything it really brought back many memories.
In past years sometimes you played as special guest with Motorhead live on stage, how's your relationship with them?
A..I have always had a good relationship with all the Motorhead line ups. I like too get on stage with them when possible. I always come off stage with my ears ringing thinking FUCK! That was loud....I must just say that I was very sad that Wurzel Passed away recently he was one of the good guys.
As a Motorhead fan, can we expect to see maybe some collaboration as special guest with them in the near future?
A.Hopefully next year our paths will cross and who knows I may find myself on stage with Lemmy and the boy's.
I do hope so,it is always a blast!
And looking back to your own personal career are you working at other projects than Fastway?
A.. Before I recorded this album I was working on a blues project with pianist Bill Sharpe I will finish it one day but at the moment my prority is Fastway.
Can we expect to see Fastway live soon on tour and maybe play live gigs in Italy?
A..I am trying to book as many festivals as possible for next year so hopefully there is one in Italy we can do. I produced a band called Miss Daisy in the late 80's in Rome and I really had a good time so I would really like to return to Italy..
What more can we expect from Fastway in the near future?
A ..It all depends on the record at this time until we see how it is received it is hard to know the future but the record is great so I am hoping for good things..
Would you like to add something to fans that will read this interview?
I would like to say I had the time of my life making Dog Eat Dog.I hope you enjoy listening to it as much!! I will hopefully see you in Italy next year....
Best Regards Eddie