Mekong Delta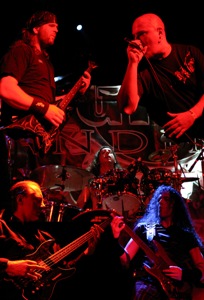 a cura di: DeaOrtolani
2012-04-12
Hi guys and welcome on our Italian webzine Alone Music. "Intersections", that will be release next 23th of April, is a collection of your best classics. From "The Cure" of 1987 to "Sphere of Eclipse" of 1992 just to name a few. Why have you chosen to focus on more recordings of the '80/'90? You are particularly related to that period of band's history or you wanted to pay homage to your fans?
Ralf : At least it was the idea of our fans. On nearly all concerts we played the last years we where asked "Why don't you record the old songs again with this line up and better sound". First we where quite sceptical and discussed it over and over again. The point that convinced me came up in a discussion about 8 – 9 month ago. If you listen to an interpretation of an classical piece, it will sound different depending on the orchestra and the conductor. So if you see it this way, Mekong 2012 is an different orchestra, but the compositions are still the same. After the decision to record those songs was felt, we agreed on 3 points which have to be worked out. First one is better sound, second played more perfect as in the past as nowadays technical standard is higher and the last one was to keep the mood of a song but fill it with the spirt of the the actual line up. Goals 1 and 2 have been reached in my opinion, the third must be decided by the fans.
There is a sort of gap between 1997 and 2007 given that the band broke up. Would you recap the main events that led you to this decision?
Ralf : It was that way that I simply have to make a break to see where I stand, furthermore I was a kind of burned out after " Pictures…………." – please keep in mind that the preperation alone of this album cost 2 years. It was like that I have to do something different to clear up my mind how to continue. So I did some other things which I liked – programming hard and software, reading a lot and so on. After 2 years I got back to composing, but it was that way that I liked what I composed Orchestra ( over the years I composed the cycle " Five Fragments for Group and Orchestra " from which you can hear two songs on the album,'Lurking Fear' - " Allegro Furioso " and " Moderato " ), but was not satisfied with that what came out for Group / Vocals. All the time I got the feeling that I was looking for something what was hidden behind some fog in my mind. It was about end of 2005 where I found what I was looking for, a combination of all what I have done so far. Kind of melting all the different aspects which have been done together. Suddenly it was christal clear what I have searched for and from that moment on I could write the new album in shortest time.
After a decade of silence, on 2007 you've decided to come back on scene with "Lurking Fear". What did you feel to join the band, choose new members, make new music? Were you worried about?
Ralf : Why should I worry ? Mekong is a project and was never deactivated, it still runs even if I did not give a sign of live. Furthermore Mekong is not bounded to special musicians, only the copmpostion counts. Putting together the line up for "Lurking Fear " in 2005 starts with contacting Peter Lake who was linked to me through Devoraz, the admin of our website as he knows that I am looking for a new guitar player. So after I got Peters mail we agreed that he should play some of the old songs to see whether he got the technical standerd which is needed. As he played them perfect and also put some own ideas on top of the old stuff which worked pretty well it was clear that he was the new axeman of Mekong. With Uli was funny . Just at the moment where Peter Haas mailed me that he can not join us before end of 2006 – what was way to late - I got a mail from Uli. So, short mail back whether he was interrested, some structures to hear what it is all about and he was more than interrested. Just at that point where I got mad of the singers we had tested ( most of them do not understand rhythm or harmony on the songs ) Uli suddenly came up with Leo. And after I listened to the first takes and he ask me to send him the notation ( the first time in my life while working with singers !! ) it was clear that he is the one. After a short discussion with Leo there was no doubt left.
If you had to make a comparison with the past, who are now Mekong Delta?
Martin : This question is not quite clear, if you mean which group out of the past Mekong could be compared with we can only say that comparisons and thinking in categories has always been the biggest poison for musical evolution, so we hope you don't mind that we can't answer this, cause it's nothing that we want, nor something that we care about.
Ralf : If you like to compare the actual Mekong Delta line up with one of the past there is a simple answer : Mekong Delta will always be Mekong Delta !
I saw you last year on stage at the Hellfest in France and I was impressed of your impact on the audience, you always are a great performer live! how important is the live aspect for group cohesion?
Martin : Of course it helps to forge a solid lineup when you learn to know each other while traveling, hanging around to rehearse for days and especially to share a stage. If we wouldn't play live, we wouldn't meet that often and would know each other not that good, so the "live aspect" as you named it, is of course a very important factor to grow together.
Are you writing new material? If so, you have already thought about what will talk about?

Ralf : Since years I work on "Into the Heart of Darkness" after a novelle from Konrad. That I did not realize it so far depends on the fact that the main theme is a river theme, but all ones composed by me over the years did not satisfy or convince me, latest after one month they where thrown into the trash can. The latest river theme ( formed in mid of 2011 ) still attracts me and it seems that it will be the one. If this continues, lets say for another 2 month, the next release will be "Into the Heart of Darkness " as a lot of the rest is already finished. This one could than be expected end of 2012 starting 2013.
What are your future plans and what you feel to say to your loyal fans?

Ralf : Oh, good one. Future plans in times like this. Think I will try to continue working on the integration of a rockgroup into orchestra and also try to experience new land with a rockgroup.
Martin & Ralf : The fans we like to thank for supporting and holding up the spirit of Mekong over the years.