Zero Degree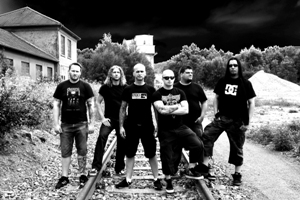 a cura di: Serena89
2012-05-11
Hi guys and thanks for this interview on our webzine Alone Music. The first question is very silly: I read that the band was born in 2006, but only now your first cd, "Surreal World" is out. Why?
First of all thank you for the interview. Yes, Zero Degree was founded in 2006 and our debut album was originally released in late 2010. MASSACRE RECORDS took the possibility to release it worldwide and to reach a wider range of people. The production of it took a long time because we produced it on our own and we are six perfectionists in the band. That is a tough circumstance for a democratic band.
There's an album, or some albums, that are famous in the metal scene, that you can link with yours to understand your particular sound?
Maybe you could describe it as a mixture of: Iron Maiden – Somewhere in time; In Flames – Colony; Dark Tranquillity – Damage done. I've appreciated so much your work, in particular the guitar riffs.
Is it hard to write with three guitars, so to create an interesting melody and at the same time to maintain the various individualities?
You're right, it is actually pretty hard to get it all under the same song structure. Everybody has to come down and play the stuff which the song needs. There is only a small space to push one instrument to the front but we try that from time to time. And maybe on the new tracks there will be more space for everyone to make individual solos or something like that.
Actually I'm listening "Where Angels Die" and I seem to hear a metalcore influence. What do you think about this sentence?
Maybe there are some aspects in our songs that could be influenced by that style but we don't try to include metalcore into our music. We definitely like bands of that style but it's not what it should sound like in the end. Funnily, "Where angels die" is one of the oldest songs on the album and is written by Pascal and he is not much into metalcore.
Which are the themes of your songwriting? How these are reflecting on your musical compositions?
The lyrical theme mainly deals with the modern world. We don't have much in common with fantasy or typical metal clichés. So we try the music to be timeless. It's definitely old schoolish metal I think, but it's supposed to include a modern feeling.
You are a young extreme metal band. For your experience, which are the problems and the advantages, for a new band, to enter in the German music industry?

It is very hard nowadays! Because there are so many bands out there. On the one hand everyone wants to play shows but on the other hand the concert promoters are reducing their activities because of increasing financial risks. It is a high disparity between bands and possibilities by the music industry. Actually we had the luck to get the deal on Massacre Records but that doesn't include touring options at all. So it is still hard for us to get further but we try our best.
Which are your next steps in order to promote this album?
We want to play some shows this year and we're still planning additional gigs. There are some ideas about doing a music video or some promotional things on YouTube, too. We will see what will happen. But we keep up the metal!