BATTLE BEAST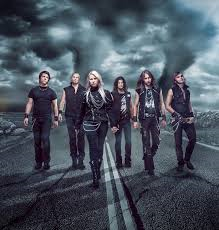 a cura di: The Sentinel
2013-06-19
First of all, congratulations for your new release: it sounds really great! How long did it take to record it?
The whole process took about half a year to record. The vocals were recorded in about two weeks.
You recorded and mixed the album all by yourself, without a producer: how difficult was the whole process?
As hard as it was mentally and physically it was at the same very taughtful and developing experience for
all of us in the band.
Tell me something about the most important inspiration sources for your lyrics. Which member/members of the band mostly dealt with the songwriting?
Anton has been the songwriter in the band since the beginning. There are three different categories the songs are about:
-Japanese anime/manga series "Berserk"
-The adventures of "the beast" (The fantasy created by Anton)
-anything between heaven and hell
The most important influences of "Battle Beast" seem to be the same of your debut album: Judas Priest, Iron Maiden and Accept. But, once again, you succeeded in adding an "original flavor" to
your music. In your opinion, where does the key of this ability lie?
It's the nature of Battle Beast! I think the key is to do the music you would love to listen yourself and combining the old and the new musical influences and effects.
Describe "Battle Beast" using three adjectives
young, sexy and powerful
I think "Golden Age" is an interesting experiment, it creates a particular atmosphere: was this track conceived to be just a short intro as it is or did you plan it to be longer?
It was supposed be shorter than the final version. As you said very well, its purpose was to create a particular atmosphere before "Kingdom". They both are about "Berserk".
How did you react when Nitte quit the band? Were you surprised?
The information about Nitte leaving the band was a total surprise. Anton started right a way searching the
new vocalist because the recordings of the new album had already started when Nitte left and a tour
coming with Sonata Arctica in November.
Last year you toured with Nightwish: how much did this gig with a very famous band from your own country help your career?
It helps a lot to get to be heard by so many pair of ears as a support of a big band as Nightwish as well as
Sonata Arctica.
Are you good friends with some other Finnish metal bands?
Well, the circles are small in music industry, we prefer to be in peace with ith everyone....I can tell you that Stratovarius is having their rehearsals in the same place we are ;)
Have you ever thought about recording some songs in Finnish?
You never know what happens in the future.
Which is/are the dream band/s you would mostly like to go on tour with?
Iron Maiden, Judas Priest, Metallica...and ofcourse it would be more than great to do tours with
Nightwish and Sonata Arctica again....
Are you planning some tour dates to promote the new album? Maybe in Italy…
The next tour is on September, you'll find the tour dates in www.battlebeast.fi
Three questions for NOORA:
How did you feel when you were chosen to replace Nitte? Did you feel at ease with the other
members of the band?
The guys in Battle Beast made it very easy for me to join the band. They are so nice and easy to get along
with. I felt very honored to be the chosen one in this particular band.
Have you ever been afraid of possible comparisons between you and her?
At first yes, but I can't please everyone. Some people hate, some people love. That's how it always goes in
the music business. But I don't hate anyone for hating me.
What do you think about the relationship between women and heavy metal:
a.generally speaking
As women are so is heavy metal: Full of passion, full of power and using lot of leather and sex-appeal
b.as far as female singers in all-male bands are concerned
My personal experience: One of the band members in sickness and health. I think there should be more
female singers in heavy metal genre for sure!