Peter Pan Speedrock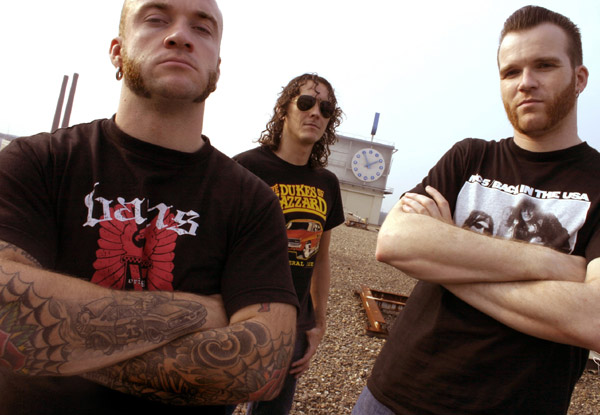 a cura di: Vale
2014-06-04
Ok, let's start straight from the news: "Buckle Up and Shove It" will be out on may 30th. How have you eventually come to choose this title?
Originally is was only meant to be the title of one of the songs, but we started using it as a working title for the album, and after a while I guess it just stuck.

Also, we'd like to know if there is a leading concept behind your 9th studio album. Even though the rock n' roll scene has always been libertine and reckless in general, not every final product is a medley of sounds/themes after all. Some bands like to make albums out of a basic idea, a topic or a story. I personally have the impression that "Buckle Up and Shove It" is not built up like that.
You're totally right. There's no over-all theme or masterplan behind this record. We've never really had that with any record. We usually just set out to make an album that's better than the one before.
Favourite song to play from this last album?
At this moment that would be 'GET YOU HIGH', the first single and opening-track on the record. It's one of the first songs we 'wrote' for this album. It basically evolved out of a jam that we'd been playing live for a while, so it feels really natural to play it. As if we've been doing it for years. I also really like the energy of the song; it builds up nicely and then explodes into complete mayhem.

You recently signed with SPV/STEAMHAMMER. What do you think about the new label?
Well, it's the biggest label we've ever been on, so we really consider this a big opportunity. Hopefully it will help open some new doors for us. And if you take a quick look at the other bands on the label, you can see that we're in very good company (Nashville Pussy, Supersuckers, etc.), and understand why our expectations are a bit higher this time.
Do you think you responded to what the fans were expecting? What's the feedback so far?
Actually I guess maybe some folks were expecting 'just another PPSR-album', or a 'We Want Blood! No.2 or something. And I think we kinda surprised them with this one, since it sound quite different from previous records. It's still every bit as brutal as before, but the over-all tempo went down a littlebit, it's a bit more melodic, but at the same time it sounds very heavy because we decided to down-tune our guitars for this one. So all-in-all I guess it's definitely not what some people were expecting, and judging from all the very positive feedback we've been getting, things worked out well.

Back in the day you formed the group: what bands had a big influence on your speed rock? Are they still inspiring you anyhow? And also, were all your personal music backgrounds similar to each other?
Our musical backgrounds were somewhat different: Peter (guitar/vocals) had a (alternative) guitarband background, Bart (drums) was more into metal and hardcore, and I was still a full-on psychobilly when I first joined the band. Bands that have had a major influence on us through the years are a.o. Motörhead and AC/DC (obviously), The DevilDogs, Butthole Surfers, Zeke, The Hellacopters, Dwarves, Entombed, Nashville Pussy, Nine Pound Hammer, Supersuckers, Turbonegro, and I could go on for a while…

Now, I noticed that your music videos involve a lot of graphic editing, cartoons and so forth, which is very cool! Can you tell us something about the new video for "Get You High"? And to which extent do you normally participate to the creative direction of your clips?
Since we were very pleased with our last two videos, we let the same guys come up with their ideas for the GET YOU HIGH clip. We basically gave them the freedom to do whatever they wanted, and once they had the rough version, we gave them some small pointers here and there along the way, but mostly we left everything up to them, which once again resulted in a kick-ass vidoe, if you ask me.

Touring, touring, touring. I see you have an italian date in Meran just on may 31st! Are you preparing for the American tour right after Europe?
I wish we were! It's been ages since we've been over there, and I think it's high time we went back. Make sure they don't forget about us, haha.

What do you think about the closing of The Rambler in Eindhoven?
Personally I thought that The Rambler was by far the best thing that happened to Eindhoven in the last 10 years, so the fact that they had to close down was a sad thing, and has been a major blow to the Eindhoven Rock&Roll-scene. What a waste!

...And what about the beer?
Well, we actually have plans to develop our very own brand of beer in the near future, so keep your eyes open for that!

Thank you so much for the interview, see you in Meran and stay speedrock!!
Cheers, Bartman.