Summer Breeze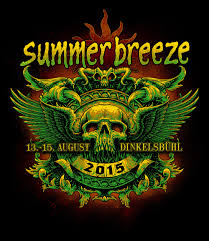 a cura di: Nasdey
2015-03-23
It's a pleasure to interview on Alone Music, one of organizer of Summer Breeze: Ralf Nüsser
E' un piacere intervistare su Alone Music, uno degli organizzatori del Summer Breeze: Ralf Nüsser
1) The festival bill has been mainly focused on underground bands and extreme metal over the years, but the upcoming Summer Breeze seems to give more importance also to other genres like thrash, power and metalcore. How and why did you take this decision?
Actually the Summer Breeze has always been standing for a wide variety of musical genres, as long as they are related to metal. As we are in good touch with our fans we pretty much know what the people's demand is like and this demand we try to hit every year. So this is not a trend, it may be different again next year.
D. Le edizioni passate del festival hanno dato molto spazio sia al metal estremo che a band emergenti, ma quest'anno il Summer Breeze sembra molto focalizzato anche su thrash, power e metalcore. Come siete arrivati a questa scelta?
R. Il Summer Breeze ha sempre dato spazio ad un'ampia varietà di generi legati all'universo metal. Grazie al contatto ravvicinato con i nostri fan, conosciamo piuttosto bene i loro gusti e cerchiamo di intercettarli al meglio anno dopo anno. Quindi non si parla di un trend, ogni edizione può essere diversa dall'altra in termini di generi e scelta delle band.
2) How did the Summer Breeze? And how you think it will evolve ?
The Breeze kept growing throughout the last years. Especially when we moved to the new site we have been growing. Not only in regards to the capacity but also regarding the structure of the festival. The business is not getting easier. There is a lot of competition going on, especially this year. We keep going and as our prices are quite low compared to many others it is always an effort to change things to the better. As we are around for quite some time now we hope we will be able to make it through these rough times. We have a great team, the professionalism and, most important, an amazing audience, loyal followers. So I am sure we will make it.
D: Come è nato il Summer Breeze? Come pensate che si evolverà?
R: Negli ultimi anni il Breeze sta crescendo. Soprattutto da quando ci siamo trasferiti nella nuova location stiamo crescendo. Non solo per quanto riguarda la "capacità", ma anche per quanto riguarda la struttura del festival. È un mercato che non sempre è facile. C'è un sacco di concorrenza, soprattutto quest'anno. Noi continuiamo per la nostra strada ma i nostri prezzi sono molto bassi rispetto ai molti altri festival ed è sempre uno sforzo cambiare le cose per il meglio. Dato che siamo in giro per un bel po' di tempo speriamo di essere in grado di farlo nonostante i tempi duri. Abbiamo una grande squadra, la professionalità e, cosa più importante, un pubblico incredibile, dei seguaci fedeli. Quindi sono sicuro che ce la faremo.
3) What are the major difficulties encountered in organizing such an important festival? Which are the most rewarding aspects?
Well, the problems we have every year are changing. What keeps being around constantly is the costs. These are growing dramatically. I do not want to complain. But everything gets more expensive big time. All the infrastructure as well as the band fees. Trash is also a huge issue. You need to see what the site looks like after everybody is gone. It is essential for us to clean it as otherweise we will not get permission to use the green again the following year. The audience's demand keeps growing also. Which on one hand is fair enough. People are paying money and they deserve an appropriate service, of course. But all this eats money. A little awareness may help to handle this. On the other hand, the biggest reward is on the Saturday night when you can see all has worked out well, no serious damages and all the bands made it up the stage and left again. A satisfied audience is just about being satisfying to us!!
D: Quali sono le maggiori difficoltà che avete riscontrato nell'organizzare un festival così importante? Quali sono invece gli aspetti più gratificanti?
R: Beh, i problemi che abbiamo ogni anno stanno cambiando. Stanno crescendo in maniera drammatica. Io non voglio lamentarmi. Ma tutto diventa grande nel tempo ed è più costoso. Tutte le infrastrutture, nonché le spese per i gruppi. I rifiuti sono un problema enorme. Devi vedere come si presenta la location quando tutti sono andati via… E 'essenziale per noi lasciare tutto pulito perché altrimenti non ci darebbero il permesso di utilizzare gli spazi verdi di nuovo l'anno successivo. Anche la richiesta del pubblico continua a crescere. Che da una parte è abbastanza giusto. Le persone escono dei soldi e meritano un servizio adeguato, naturalmente. Ma tutto richiede un dispendio di soldi. Avere un po' di consapevolezza ci aiuta a gestire il tutto. D'altra parte, la più grande ricompensa è il sabato sera, quando puoi constatare se tutto ha funzionato bene, senza gravi danni e che tutte le band che hanno suonato sul palco. Un pubblico soddisfatto è quello che rende soddisfatti noi!!
4) Are there any women behind the organization of the festival? Which role do they play? In general, how many people work to the realization of the festival?
There are women, of course, And their power is bigger than you and me could imagine.
It is about 5 women working for us throughout the year. During the festival I do not know. Too many people. Up to 15 people in total through the year. It is by demand so tricky to say exactly. Not all are employed at the Breeze.
D: Ci sono donne dietro l'organizzazione del Festival? Che ruolo hanno? In generale, quante persone lavorano alla realizzazione del festival?
R: Le donne ci sono, naturalmente, e il loro potere è più grande di quanto io e tu possiamo immaginare. Si tratta di circa 5 donne che lavorano per noi durante tutto l'anno. Durante il festival non lo so. Troppe persone. Fino a 15 persone in totale durante l'anno. È difficile rispondere con esattezza perché non tutti sono impiegati del Summer Breeze.
5) How do you choose the bands that will be part of the bill?
Well quite a lot are offering themselves, many booking agencies also do a good job. Some bands we would love to have playing for us. And what we know from our audience we also try to consider. Not easy all in all. But somehow we keep managing it.
D: Come scegliete le band che faranno parte del bill?
R: Beh un bel po' si offrono da sole, le molte agenzie di prenotazione fanno un buon lavoro. Alcune band ci piacerebbe vederle suonare per noi. E cerchiamo di prendere in considerazione anche quello che apprendiamo dal nostro pubblico. Non è facile, tutto sommato. Ma in qualche modo cerchiamo di gestirlo.
6) Which was the most successful edition of the Summer Breeze in your opinion?
How to define Success? Each year we have no serious accidents and great weather and can pay our bills we would call successful. A huge audience is just part of it.
D: Qual'è stata secondo te l'edizione del Summer Breeze che ha avuto maggior successo?
R: Come definire il successo? Il non avere ogni anno gravi incidenti, il bel tempo e poter pagare le bollette potremmo chiamarlo un successo. Un pubblico enorme è già una parte di esso.
7) The presence of Sodom, Kreator, Destruction and Tankard is one of the highlights of this year and also a great satisfaction for a German festival. When did you contact them for the first time and how long did it take you to receive their feedbacks?
We actually booked these bands as we always book bands. After a while the idea of the Teutonic four occurred. We first laughed about it. But after a while we thought we should use this term. Here we are.
D. La presenza di Sodom, Kreator, Destruction e Tankard è sicuramente uno dei punti forti di questa edizione e anche una bella soddisfazione per un festival che si svolge proprio in Germania. Quando li avete contattati per la prima volta? Quanto tempo ci è voluto per ricevere le loro conferme?
R. In realtà abbiamo "prenotato" queste band come facciamo solitamente con tutte le altre. Nel giro di breve ne è uscita l'idea dei Big Teutonic Four: all'inizio ci abbiamo riso su. Ma poi abbiamo pensato che avremmo dovuto etichettarli con questo termine…ed eccoci qui.
8) Apart from the Big Teutonic Four, there are many other famous bands: in your opinion, who is expected to be the real headliner?
Something tricky to say. I remember smaller bands that rocked everybody's nuts off playing a late afternoon. Actually the real headliner is the audience, as they keep going, no matter what!!
D. Ci saranno anche molte altre band famose oltre ai Big Teutonic Four: chi sarà il vero headliner secondo voi?
R. Non è facile da dire: mi ricordo che alcune band emergenti hanno davvero spaccato nonostante abbiano dovuto suonare nel tardo pomeriggio. In realtà, potremmo dire che il vero headliner è il nostro pubblico che ci supporta costantemente.
9) How many stages will there be?
Just like 2014. So 2 open air stages, the T-stage and the Camel Stage.
D. Quanti palchi ci saranno?
R. Due palchi all'aperto, il T- Stage e il Camel Stage, esattamente come nel 2014
10) Which strategies are you implementing in order to engage your fans through social networks and the forum on your website?
We are improving on this constantly. Part of our plans is to let the fan be more and more part of the organizing and all the things to be done behind the scenes. Despite that we have a new way of transporting the news. But that is about to happen and I do not want burst any surprise.
We have just restarted the street team and more is coming up. This is not only through social media, it goes beyond.
D. Quali strategie state attuando per coinvolgere il più possibile i fan attraverso i social network e il forum sul vostro sito?
R. Stiamo migliorando costantemente sotto questo aspetto, perché abbiamo intenzione di far sentire i fan sempre più coinvolti nell'organizzazione del festival e di tutti gli aspetti dietro le quinte. Stiamo per lanciare nuove modalità per far circolare le notizie, ma ancora non voglio rovinare la sorpresa. Abbiamo anche ripristinato da poco lo "street team" e altre novità sono in arrivo. Quindi il coinvolgimento dei fan non riguarda soltanto i social media ma va oltre.
11) Which are the highlights of Summer Breeze in comparison to other European festivals, not only in terms of bands and genres but also as far as camping, facilities and atmosphere are concerned?
The atmosphere is definitely something unique. We should not forget this is a metal open air festival. So it is like it used to be, kind of old school. But due to the increased estimation of service and luxury on the fan's side we need to leave this idea behind more and more. We are working on the infrastructure every year again. We are in the middle of nothing and water, electricity and so on is hard to set up.
Despite that we have set up the green idea on the site. We started with a green camping area last year which was quite successful this year we will increase it and do plea to the fans to behave an adequate way for it is for nature, and we all are part of it.
The Breeze is still a low price festival. Tickets are 99 EUR. For one of the biggest metal festivals in Germany. So get there while you can.
D. Quali sono i maggiori punti di forza del Summer Breeze in confronto agli altri festival europei? Non mi riferisco soltanto alla scelta delle band e dei generi, ma anche ad altri aspetti come il campeggio, i vari servizi offerti e in generale all'atmosfera che si respira…
R. L'atmosfera è certamente qualcosa di unico. Non dobbiamo dimenticare che si tratta di un festival metal all'aperto, inteso alla maniera "old school" di una volta. Ma siccome i nostri fan tengono sempre più in considerazione alcuni aspetti come i servizi e il comfort, dobbiamo iniziare a lasciarci alle spalle questa idea. Ogni anno rilavoriamo sulle infrastrutture: siamo nel mezzo del nulla quindi acqua, elettricità e tutto il resto sono difficili da gestire. Nonostante ciò, abbiamo messo in piedi il concetto di "idea verde": abbiamo iniziato col camping ecologico l'anno scorso e visto il buon successo riscontrato lo replicheremo ed amplieremo quest'anno. Faremo anche un appello ai fan di rispettare il più possibile la natura, perché ne siamo tutti parte.
In aggiunta a tutti questi aspetti, il Summer Breeze è rimasto un festival a basso prezzo: i biglietti costano 99 euro, ma stiamo comunque parlando di uno dei maggiori eventi metal in Germania. Quindi…procurateveli finchè siete in tempo!
a cura di Valeria Cannizzaro e Benedetta Premoli ( The Sentinel )