AA. VV.
a cura di: SimonaSchincaglia
pubblicato il: 2007-11-30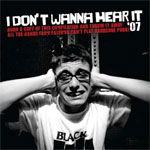 I DON'T WANNA HEAR IT ! 2007
Feccia Tricolore1. Un giorno migliore* / 2. Un'arma (live)Burst-Up3. What about to cut the shit / 4. Backstreet terror Shock Troopers5. Brainsucker / 6. Goodbye liverFaulty7. Aspettative / 8. You are nothing for meFake Hopes9. We want a scene / 10. Our pride Almost Monkey11. Time to react / 12. Burning AgainValues Intact13. Words as knives / 14. These days are redAlibi15. Come posso ancora fidarmi di voi / 16. NoiaSenza Tregua17. Lotta senza tregua / 18. Fiamme al tricoloreTurbobanana19. Merda a tonnellate / 20. Dio non esisteNot Your Friend21. Something weird / 22. The pain you'll fellLxExAxRxNx 23. The same horror show / 24. Red Tape (Circle Jerks cover)Munnizza25. Rimorsi e rimpianti / 26. Quando finiràBrain Kills27. Depravation / 28. Palermo maledetta F.U.G.29. Not a star / 30. Error 404Once Again31. Antisocial to the core


Finalmente una Compilation che mette in luce il gran fermento di musica palermitana.
Una Compilation che parla di Hardcore con tutte le sue sfaccettature.
Ed è possibile scaricarlo gratuitamente.
All'interno troviamo, due pezzi a testa per sedici gruppi, per un totale
di 31 tracce, " tranne per gli Once Again presenti con un solo pezzo
come, bonus track",
che contengono ; rabbia, forza, passione, e allegria.
Passando dall'Hardcore più melodico dei Not Your Friend,
allo Ska-Core dei Munnizza, e dei Almost Monkey,
a gruppi gia benconsolidati come i LxExAxRxN, Burst-Up, Shock Troopers,
Values Intact, Fake Hopes, Faulty, F.U.G.
Gia ben conosciuti nella scena musicale palermitana,
a band che stanno cominciando ad emergere come i
Feccia Tricolore, Alibi, Senza Tregua, Turbobanana, Brain Kills.
L'album è di ottima riuscita, molto scorrevole
e ottimamente registrato, risultando così un buon lavoro per la scena Hardcore palermitana.