Zombie Inc.
a cura di: Vale
pubblicato il: 2011-09-07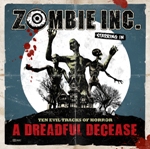 A Dreadful Decease
The Chaosbreed


Deadtribe Sinister


Challenge of the Undead


Horde Unleashed


We must eat!


Bloodrain Overdose


Grim Brutality


Horror Fills This Hollow Earth


A Dreadful Decease


Planet Zombie


[EN]
Fourty minutes of austrian death metal can barely destroy your ears: I'm talking about Zombie Inc.'s debut album "A Dreadful Decease". First of all they made an excellent title choice because the result is actually dreadful! It seems that five butchers decided randomly to record some pieces...Yes,these ten tracks are pretty brutal, heavy and also a bit technical. The band itself thinks it's pure old school death metal despite I'd rather say there's only a big influence of it (especially in the riffs) and nothing else. The ensemble is modern and, obviously, distortion dominates. Growls are deep, sound is amazing, well mixed, songs are not too long and beat changings are intelligent. To emphasize the hostile atmosphere they put lots of intro/outro voices and noises too. Though the tracklist might be boring the guys are starting with plenty of energy and that's important if they want to keep going.
By listening to the opener "The Chaosbreed", probably one of the best songs, we can understand how most of the playlist sounds like, but don't take it too easy: surprises have yet to come. For example in the middle of "Horde Unleashed" there's a moderate part that allows us to take a deep breath just after three hellish tacks. Then we hear "We Must Eat" that is slower but definitely disquieting and scary! It's got a nice groove anyway...
The real old school death metal converges in "Horror Fills This Hollow Earth" and "Bloodrain Overdose": they both remind of many famous bands such like Decapitated, Deicide, a tiny bit Obituary, Cannibal Corpse and others.
Finally we have the last songs, "A Dreadful Decease" and "Planet zombie", which are interesting for their strange riffs that get better and better while going nearer the end. Personally, the last song in particular gives the clear idea of a 'Planet Zombie', I think mostly for its sonority at some moments.
So, Zombie Inc. made a good wicked job. Not a masterpiece, but a fine album.
[IT]
Quaranta minuti di death metal austriaco possono disintegrarti le orecchie: parlo del debut album degli Zombie Inc., "A Dreadful Decease". Anzitutto hanno fatto un'ottima scelta del titolo perchè il risultato è veramente spaventoso! Sembra che cinque macellai abbiano deciso così a caso di registrare dei pezzi... Già, queste dieci tracce sono abbastanza brutali, pesanti e anche un po' tecniche.
La band pensa che si tratti di puro old school death metal sebbene direi piuttosto che c'è solo una grande influenza e nient'altro. L'insieme è moderno e, ovviamente, domina la distorsione. I growl sono grevi, il sound è grandioso, ben missato, le canzoni non sono troppo lunghe e i cambi di ritmo sono intelligenti. Per enfatizzare l'atmosfera ostile hanno anche messo un sacco di voci e rumori come intro/outro. Anche se la tracklist potrebbe risultare noiosa i ragazzi stanno partendo con molta energia ed è importante se vogliono darci dentro.
Ascoltando la opener "The Chaosbreed", probabilmente una delle migliori canzoni, capiamo com'è la maggior parte della playlist, ma non prendetevela troppo comoda: le sorprese devono ancora venire. Per esempio nel mezzo di "Horde Unleashed" c'è una parte moderata che ci permette di fare un bel respiro dopo tre tracce infernali. Poi sentiamo "We Must Eat" che è più lenta ma assolutamente inquietante e allarmante! Ha un groove carino comunque...
Il vero death metal alla old school converge in "Horror Fills This Hollow Earth" e "Bloodrain Overdose": entrambe ricordano molte band famose come Decapitated, Deicide, un pochino Obituary, Cannibal Corpse e altre.
In fine abbiamo le ultime canzoni, "A Dreadful Decease" e "Planet zombie", che sono interessanti per i loro riff che migliorano man mano che ci si avvicina alla fine. Personalmente l'ultima canzone in particolare da' un'idea chiara di un 'Pianeta Zombie', penso principalmente per le sonorità in alcuni momenti.
Dunque, gli Zombie Inc. hanno fatto un buon malvaggio lavoro. Non un capolavoro, ma un buon album.