At Vance
a cura di: LaraC
pubblicato il: 2012-04-20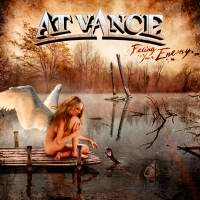 Facing Your Enemy
Heaven Is Calling


Facing Your Enemy


Eyes Of A Stranger


Fear No Evil


Live Learn


Don't Dream


See Me Crying


Saviour


Tokyo


March Of The Dwarf


Fame And Fortune


Things I Never Needed


La band tedesca At Vance, che ha alla spalle la creazione di molti cd e i membri sono dotati di un vasto bagaglio musico-culturale, compie il suo ritorno nella scena metal con il nuovo cd "Facing Your Enemy": un concentrato di epic/neoclassical metal esplosivo. Il chitarrista, che suona anche la tastiera( da cui suona affascinati melodie) nel cd, riesce a creare un'armoniosa alternanza tra riff ben strutturati ed assoli più che eccelsi. Il batterista riesce perfettamente a suonare tempi veloci, potenti e anche più soft. Il bassista riesce a scatenare ritmiche velocissime e molto adeguate al contesto musicale. Il cantante ha una voce perfettamente impostata e riesce ad eseguire sia tonalità basse che quelle acute, il cantante perfetto ed ideale per il genere che fanno gli At Vance. Le prove delle elevate competenze ogni membro del gruppo sono canzoni come "Tokyo", "Fear No Evil", "Facing Your Enemy", "Eyes Of A Stranger" e "Things I Never Needed".
Un album perfetto sia dal punto di vista tecnico e stilistico-musicale, degno di lode e da ascoltare assolutamente. Un perfetto capolavoro
The German band At Vance, who has behind their shoulders the creation of various cds and whose members have a great musical-cultural background, return with the new album "Facing You Enemy": a concentrate of an explosive epic/neoclassical metal. The guitarist, who plays also the keyboards( with wich he plays charming melodies) in the cd, arrives to create an alternance between well-structured riffs and more than excellent solos. The drummer can plays with great perfection fast, powerful, articulated and soft times. The bass player plays fast rythmns which are very appropriate for the musical context. The singer has a well-pitched voice and he can perform high and low pitches, the ideal and perfect singer for the kind of metal of the At Vance. The proofs of the abilities of every member of this group are tracks like "Tokyo", "Fear No Evil", "Facing Your Enemy", "Eyes Of A Stranger" and "Things I Never Needed". A perfect album by the technical and stylistic side. "Facing Your Enemy" is praiseworthy. To listen absolutely. A perfect masterpiece.